Overview
The Sent Forms page of the Portal allows a User (with Mobile Forms Administrator or Online Docs User Role) to view and take several actions on Forms (in Folders they have access to) submitted for a Company.

Navigate to Sent Forms on the menu on the left side of the page to access the Sent Forms page.



Note: Sent Forms is an additional feature and some companies do not have Sent Forms enabled. Please speak with your Account Manager if you want to add access to Sent Forms to your account.

Note: Sent Forms are kept for a limited amount of time. This retention period varies by Company. You can view the retention period for your Company under Admin > Company Profile > System Settings > Sent Form Dispatch Retention Period. Please speak with your Account Manager if you want to change your retention period.
---

Tutorial Video
A tutorial video is also available and covers most of this material if you prefer to watch how to manage your Sent Forms.
---
Sent Form Filters
The Sent Forms have Date Sent (last month) and Final Version Only filters applied by default. To edit any filters, click on the Show/Hide Filters button.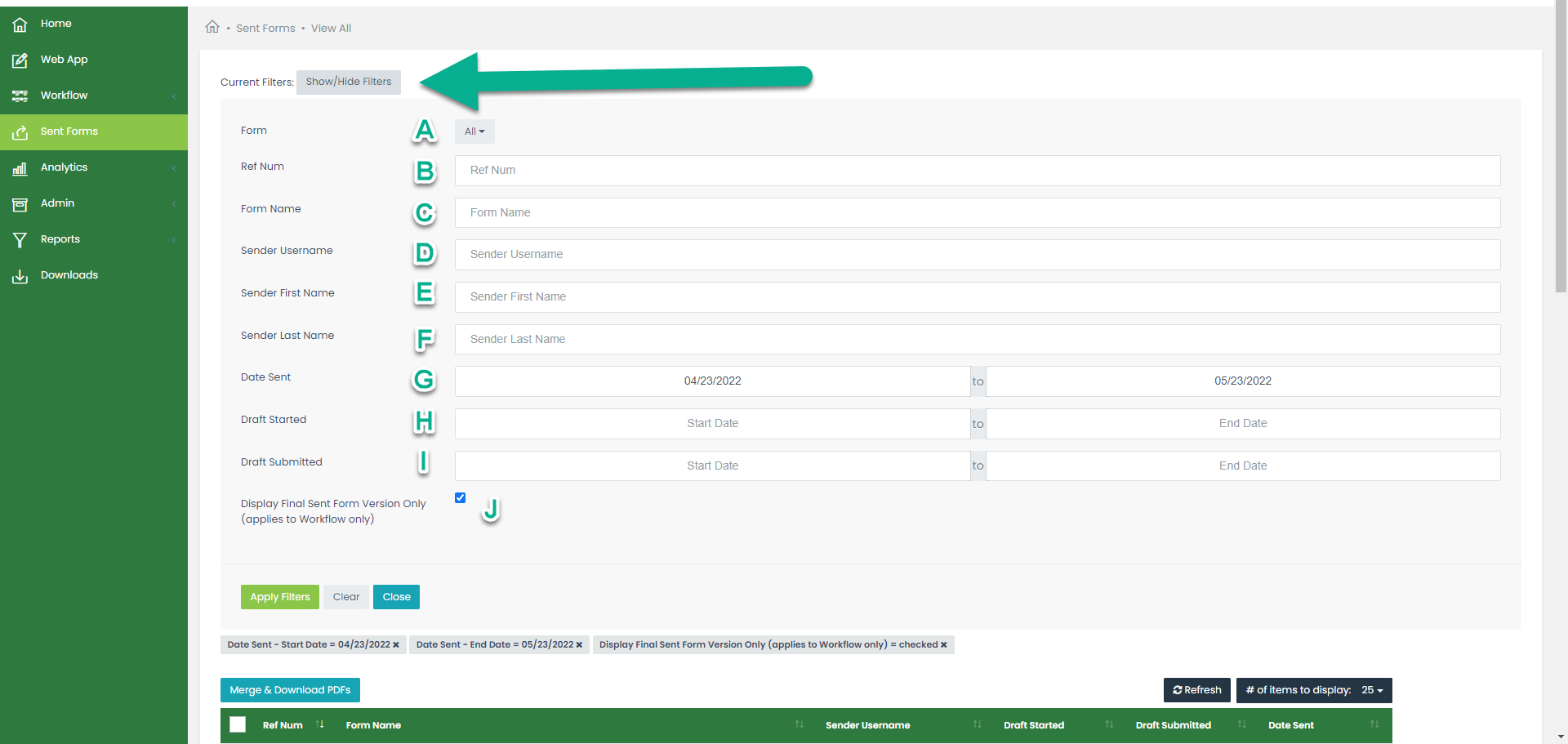 A. Form - Choose a single Form Name.
If you have Region Filters on the Form, you can filter by the values in those Regions. See the article on Region Filters for details on how to add Region Filters to a Form.
Choose the Form from the Form drop-down.
Click on Apply Filters .
Click on Show/Hide Filters to open the Filters with the additional fields to filter by form data in the regions with region filters.
B. Ref Num - Enter a Reference Number to find Sent Form(s) for a single Form.
C. Form Name - Enter any part of a Form Title. For example, if a customer name is part of your Form Title, you could filter by that customer name.
D. Sender Username - Enter the username (or part of the username).
E. Sender First Name - Enter the Sender's First Name.
F. Sender Last Name - Enter the Sender's Last Name.
G. Date Sent - Enter a date range. The default range is the last month.
H. Draft Started - Enter a date range for when the Form was started on a device.
I. Draft Submitted - Enter a date range for when the Form was submitted from a device.
J. Display Final Sent Form Version Only (applies to Workflow only) - Each time a specific form has an action taken on it during workflow (for example, it is edited and approved as part of the workflow process), it will be saved as a Sent Form version. This means that a single form can have multiple Sent Form versions. Unchecking this box allows you to view all of those versions.
You can download an Excel or CSV file of your filtered Sent Forms by clicking on the corresponding button.

---
Download Sent Form PDFS

To download the PDF for a single Sent Form, click on Select an Action then choose Download PDF .

To download a PDF for multiple Sent Forms, check the boxes next to the Sent Forms that you want to download then click on Merge & Download PDFs .
Note: If you merge more than 10 forms in a single PDF, you will receive an email with an attachment instead of downloading from the Portal.
---
Re-Send E-Mail

You have the ability to re-send the Sent Form email to the original Recipient(s) in the event that the original delivery failed or the User deleted their email. This option will only appear for Forms that had original Recipients.


---
Quick Copy Into Work Order
Note: Only Users who have access to Sent Forms and Work Orders will see this option.
In cases where you want to start a new form from the Portal and prefill data from a previously sent form into the new form (similar to using Quick Copy in the Mobile Forms app), you can use the Quick Copy into Work Order action for a specific Sent Form.

This will populate a Work Order with any region data enabled for Quick Copy. You can then edit any data needed and assign the Work Order to a User. The User can then open the Work Order on their device under My Work. See the article on
Dispatching Work Orders from the Portal
for more details on Work Orders.