Field2Base offers the ability to customize your Field2Base solutions(s) specifically for your business needs with assistance from our Professional Services team. Our Professional Services engineers can support you in making your company's forms and processes as smart and user-friendly as possible while maximizing your deployments.
Field2Base offers Professional Services on an hourly basis at a standard rate of $150/hour, which requires pre-payment. Please contact
f2bps@field2base.com
at any time to inquire about our Professional Services. One of our Professional Services engineers will reach out to you to assess your needs and provide a custom quote for your review and approval before any work begins. The initial meeting to gather your requirements is considered non-billable (.5 hours maximum) but any additional project review meetings are billable and will require Professional Services hours.
Once the work is delivered, our Technical Support Team is available for any ongoing questions and assistance.

Mobile Forms Administrators can view the Professional Services hours available to your account in the Field2Base Portal by navigating to
Company Profile > Company Information
.
The Professional Services hours available on your account are displayed at the bottom of the page. You can also click on the
View History
button to view details on purchased and used hours. If you wish to purchase Professional Services hours or start a new project with the PS team, you can use the
E-Mail Professional Services
button.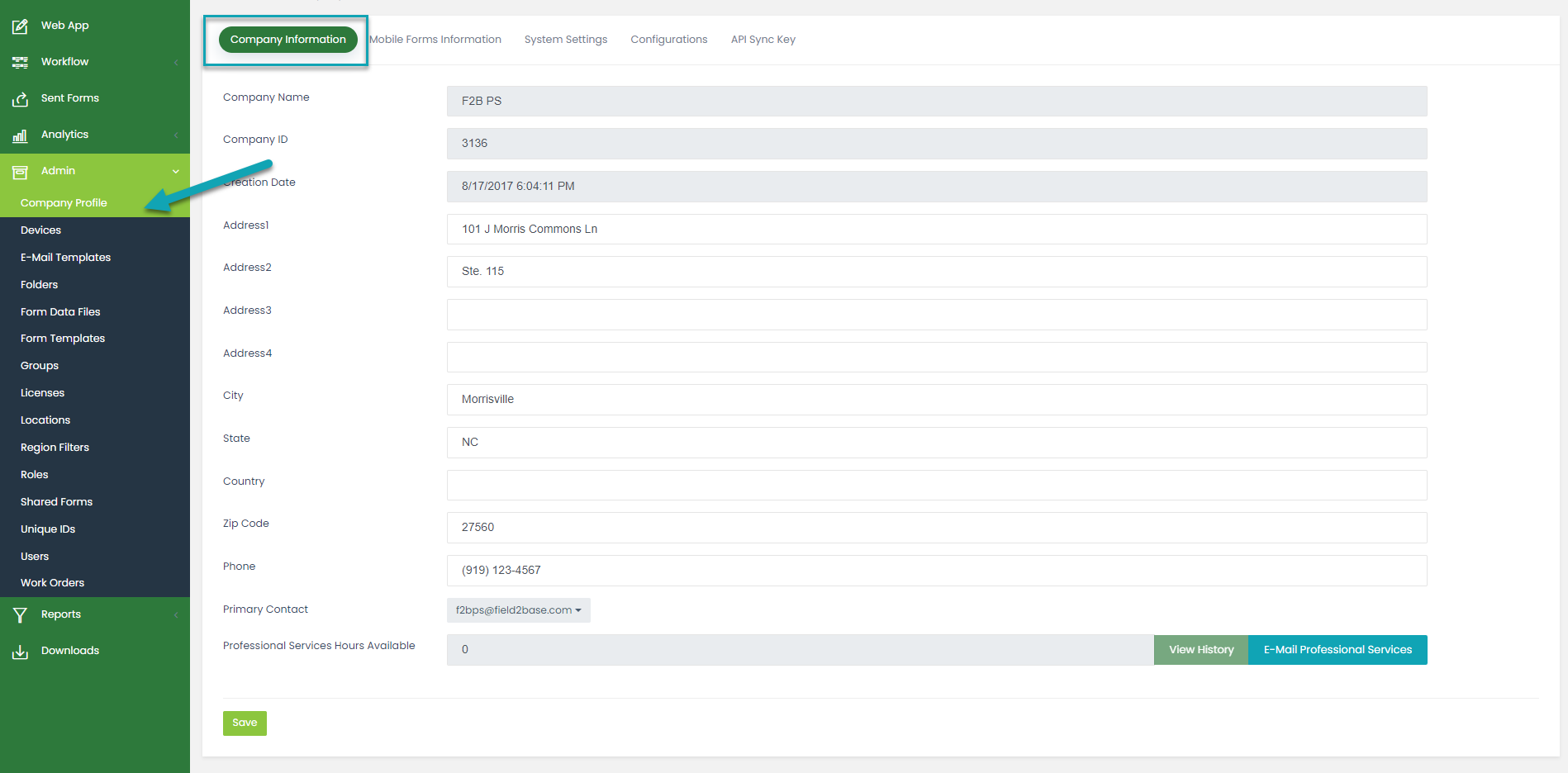 Note: The Professional Services team typically logs hours daily so your available hours should be up to date on a daily basis.
---
Services Offered
Our Technical Implementation Engineers can assist you to determine the most effective form design and workflow to maximize your field worker's experience, minimize error, and improve handling times.
We work with you to choose from various integration options and design training plans for quick adoption of our products.
Our Technical Implementation Engineers can take your existing form(s) and create digital easy-to-use version(s) for you and your field employees or can work with you to design new digital forms to improve your business processes.
Whether you need a one step or multiple stage approval process, our Professional Services team can enable your form to proceed in the correct approval path by implementing the Field2Base
Workflow
feature.
Do you need to dispatch pre-filled forms to your team? Or connect form data into your existing back-end environments?
We have integration products that allow you to complete the data sharing cycle and help your business reduce waste, remove time delays, and reduce redundancies. Most importantly, our Technical Implementation Engineers assist you with every step of the way in deploying our suite of integration products.
Transform your form data into reports and graphs built just for you via our
Analytics
product. We create personalized dashboards to display and highlight your form data for action and awareness into your company. Furthermore, we consolidate your form data into multiple views, including heat maps, pie charts, bar charts, and tables that can be filtered according to your needs.