Overview

When you have a Datasource (drop-down) Region on your form, the data can be populated in several ways. One of the most common ways is to use the Form Data File functionality native to the Field2Base application.

Form Data Files are the MS Excel™ or MS Access™ CSV files linked to your digital forms. The data in these files are used to populate the Datasource regions on your forms. For more information on creating SQL Datasource regions that can pull data from these files into your forms, see the
SQL Datasource Regions
article. You can change the data in these files and the new data will be available in the Datasource regions on your forms.
The Form Data Files page in the Portal allows you to manage the Form Data Files for your company's digital Forms. You can view, upload new, update, or delete Form Data Files from this page.


Note: Saved Form Drafts will not load the new data from an updated Data File. Form drafts are meant to be a "snapshot in time" with data remaining constant from when the Form was initially started. Data from Data Files is maintained from the time when the form was started by design so that the original data cannot be changed or possibly deleted if the Data File is updated after a Form has been filled out initially.
---
Tutorial Video

A tutorial video is also available and covers most of this material if you prefer to watch how to manage your Form Data Files.
---
Viewing Your Form Data Files

To view the Form Data Files for your company, log in to the Portal and go to Admin > Form Data Files. From the Form Data Files page, you can view all of the Form Data Files that have been uploaded to your company. You can click on any of the hyperlinked (white) column headings to sort your data files or use the Show/Hide Filters button to filter your Data Files by File Name, Associated Folder, Date and/or Submitted By.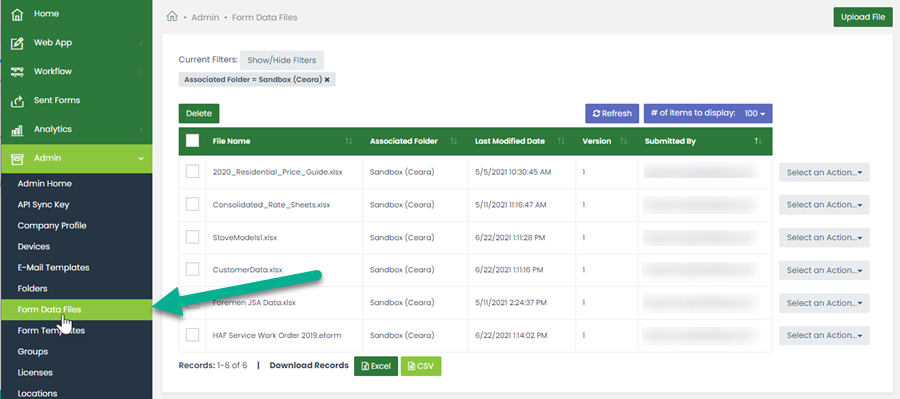 File Name: The name of the Form Data File.

Associated Folder: The name of the folder that the Form Data File is associated with. Assigning a Form Data File to a Folder is optional and means that the Form Data File will only be available to Forms in that specified Folder and will only be downloaded to devices for Users with access to that Folder. If you need Forms across different Folders to have access to a Data File, you should not associate the Data File with a Folder.

Last Modified Date: The Date/Time the Form Data File was last uploaded to the Portal.

Version: Each time a Form Data File is uploaded, it increments the version number by 1. For example, if a Form Data File was published 21 times, the version number would be 21.

Submitted By: The last Field2Base User to upload the Form Data File.

---
Select an Action Dropdown

Additional actions are available when selecting from the Select an Action dropdown.


Change Folder: Allows you to move the Form Data File to a new Folder.

Download: Allows you to download a Form Data File to your PC in order to review or update it.


Note: We recommend always downloading any Form Data File that you need to update from this page to ensure that you are working with the current version.
Traffic: This shows every device in the field that has downloaded the most recent version of the Form Data File. This feature is useful for ensuring that all of your users are using the most current version.

View Past Versions: Allows you to view and download past versions (up to 100 past versions) of the Form Data File.
---
Uploading a Form Data File

If you have updated an existing Form Data File or you have created a new Form Data File, you will need to upload the most current version to the Portal so that your forms can pull the latest data.


Note: When updating and re-uploading an existing Form Data File, the File Name needs to be an exact match in order to overwrite the existing Data File and to update the data available in the Form(s).
1. Log in to the Portal and go to Admin > Form Data Files.
2. Click on the Upload File button.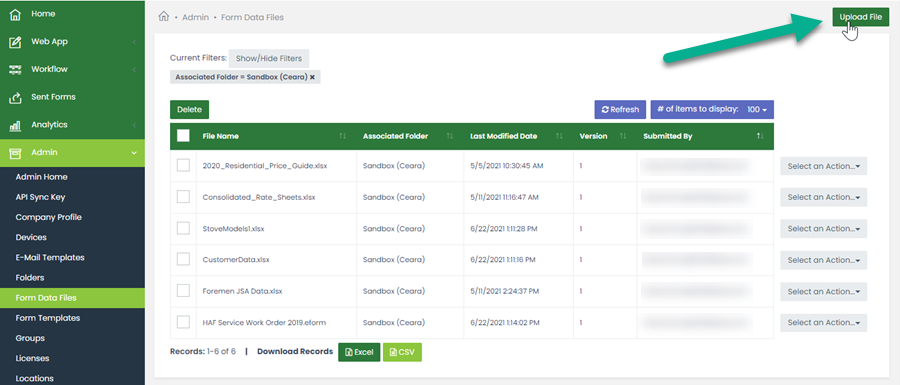 3. If you want to limit access of the Form Data File to Users and Forms associated with a specific folder, select a Folder. Otherwise, use the default of Company Wide so that all Forms can access the Data File.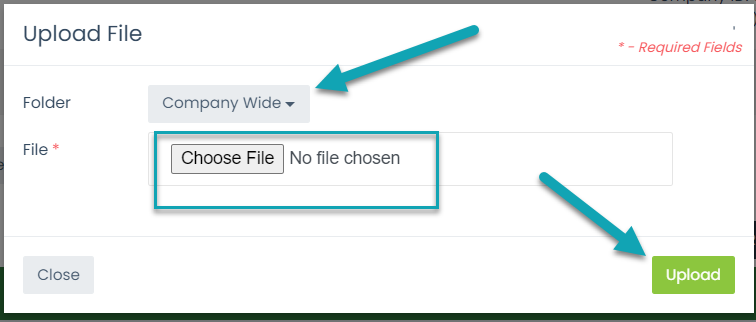 4. Click on Choose File and select the file you would like to upload from your local files.

5. Click on Upload to upload your new Data File or on Close to cancel.

---
Deleting a Form Data File
Form Data Files can be deleted from the Portal if they are no longer being used in any of your Forms. Deleting a Data File means the data will no longer be accessible to any of your Forms and any Datasource (drop-downs) Regions in your Forms using this data will no longer work.

1. Click on the checkbox next to the form(s) to be deleted.

2. Click on the Delete button.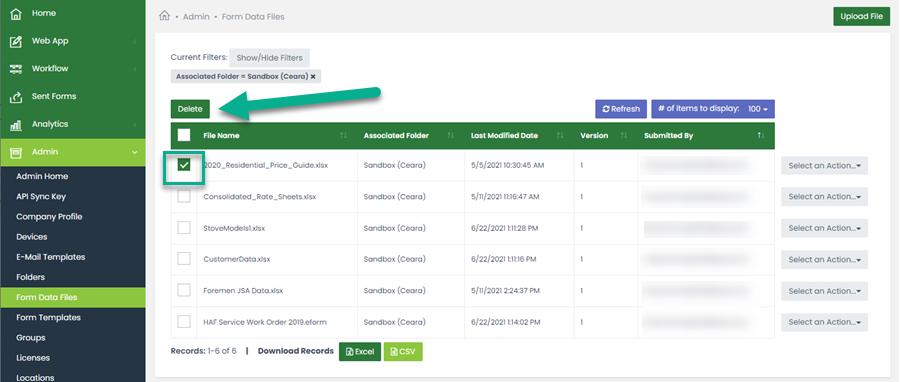 3. A Dialog box will pop up asking you to confirm that you want to delete. Click Yes to finish deleting the file.